The Senate Radio-Television Gallery (SRTVG) was established in 1939 by the United States Senate to provide a workspace for journalists who cover the Senate and report the news electronically. The Gallery issues credentials to journalists representing broadcast media, including major news networks, their affiliates, and foreign news outlets. This credentialing process is overseen by the Executive Committee of the Radio &Television Correspondents' Association (RTCA).
The staff of the Gallery serves as a liaison between Senate offices and news correspondents and works to keep broadcasters informed of Senate activities. Senate Gallery staff attend all Senate functions covered by the broadcast media and may be called upon for assistance or a list of those members of the broadcast media attending.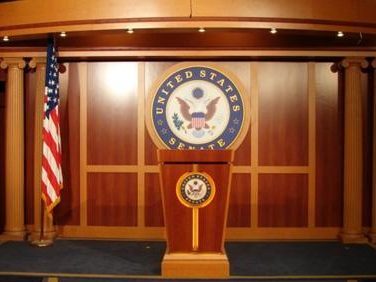 Key functions of the Gallery include:
Coordinating usage of the Radio-Television Gallery studio for press conferences.
Coordinating broadcast coverage of Senate Committee hearings.
Coordinating coverage of stakeouts, photo opportunities, and other media events.
Recording and disseminating Senate floor activities to Gallery members.
Compiling and distributing the next day's committee hearings and media events to Gallery members.